Earlier this week I was reading about how Coca Cola has revamped its corporate website turning it into a digital magazine called Coca Cola Journey.
It's another example of a brand becoming a digital publisher – using the tools of digital publishing and social media to speak directly to consumers.
Who needs to have your press releases or public statements misrepresented by journalists in the mainstream media. If you can become a publisher instead, you can bypass the media altogether and tell your own stories in your own way.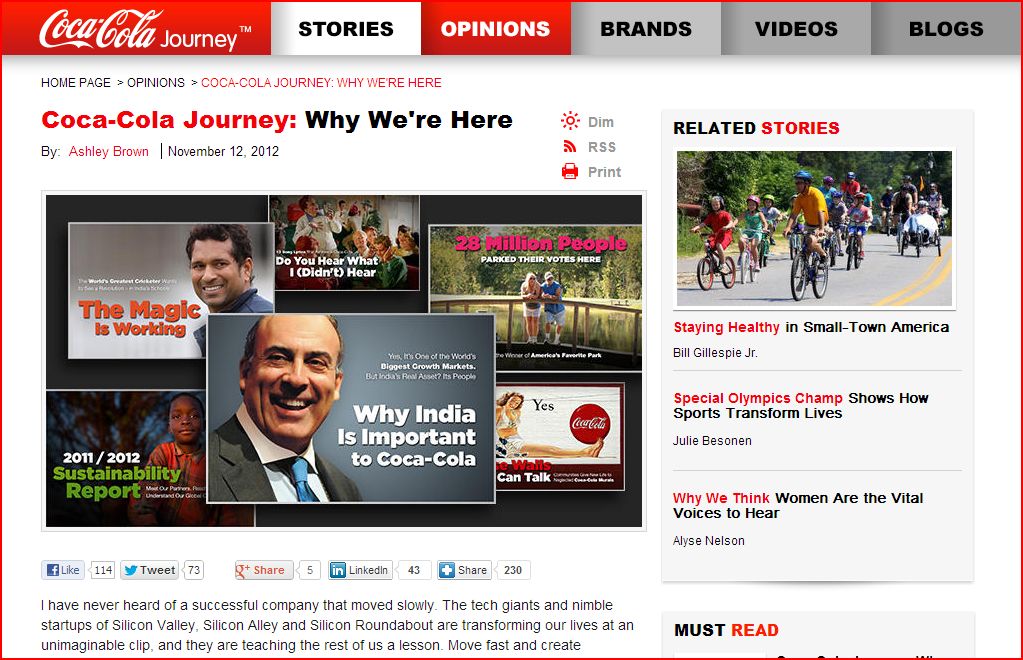 If you have a look at Coca Cola journey, you'll find articles on subjects like entertainment, the environment, health and sports. It also includes interviews, opinion pieces, video clips and photo galleries.
This is brand journalism and unlike conventional journalism, it's clearly subjective with the aim of supporting and promoting the brand.
It's not about asking difficult questions or shining a light into dark places. To be honest, I don't have a problem with this. I accept that traditional journalism and brand journalism are two very different things.
We have to understand that everything's a brand these days. Whether it's a business, an individual or celebrity figure, a football club; we're all a brand with our own unique identity, image, story and reputation.
When it comes to content strategy and creation we need to look at content that will continue to promote and market the brand.
Coco Cola Journey is clearly an impressive piece of slick digital content. But as one of the world's biggest and most recognisable brands and businesses, Coca Cola has the time and resources to produce something like this.
In saying this there's no reason why we can't look at Coca Cola for inspiration when it comes to creating web content for our own websites and businesses.
Coca Cola is looking at telling its story to consumers, some of those stories might surprise or be unknown to people. I was certainly surprised looking at the site to discover just how many different projects and industries Coca Cola is involved in.
Marketing is all about storytelling these days, so you need to think about the stories you can tell people about you and your brand and how best to present these stories when it comes to creating content.
I've read quite a few articles on the Coca Cola journey. It's an interesting and enjoyable experience. Once you attract people to your website you have to ensure they find it an enjoyable experience. If people like spending time on your site then hopefully they should keep coming back.
Finally, are you producing content that people want to share? Sharing information is now one of the main ways people consume content online. If people find your content interesting and valuable they'll want to share it.

Related Articles
A 5 Step guide to starting a brand journalism program
Build A Personal Brand, Not Just A Career
Inside Forbes: The Birth of Brand Journalism and Why It's Good for the News Business