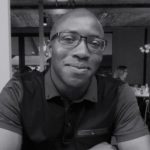 Here's my chance to tell you a little bit more about myself.
I'm Rodney, I'm a Content marketing executive and freelance writer based in London. I'm a versatile writer and can write about a range of different topics.
My full time job involves working for a business and technology consultancy firm in central London. The business works with many of the world's leading investment and retail banks. I write blogs, articles and thought leadership papers on banking and financial technology. My other interests include writing about business media, digital publishing, journalism and content marketing.
Here on my website you'll find lots of articles and ideas about digital publishing, writing and content strategy.
I want to help and inspire others to create great content that will successfully promote and market websites and businesses more effectively.
I have a blog called Newspotting which I set up in 2009. It's a news review blog where I provide comment, analysis and opinion on recent news stories that have made the headlines.
This normally includes everything from politics, current affairs, world news, sport, music and popular culture. You'll find it all on Newspotting.
How I got started
Many of us have moments when we look at our careers and ask ourselves if we're doing the things we really want to do.
After establishing my career in health regulation this is how I felt as I reached my 30th birthday. I wanted to do something a bit more creative in my life and I started thinking about what that could be.
Painting or writing were the options I had in mind. I eventually chose writing and enrolled on a freelance writing course at City Lit College, in Covent Garden, London.
After the three month course ended – I realised I'd been ignoring my passion for writing for too long. Now was the right time to do something about it.
At the start of 2008 I decided to retrain in journalism. I studied for the NCTJ course at Cleland Thom's College of Media and Publishing.

I have NCTJ Journalism certificates in Media Law, Public Affairs Local Government, Public Affairs Central Government and News Writing. I have a diploma in copywriting, experience of sub-editing, and social media marketing.
Having a full time day job and studying in the evenings was hard work, but when you're doing something you love and feel passionate about it doesn't feel that way.
The experience was one of the most rewarding and challenging things I've done in my life and I loved every minute of it.
So that's a little of my back story for you. I'm a passionate writer and digital media enthusiast. Hopefully my passion and interest can help others create amazing content.